The most recent addition to this new collection of 3-door Kias is the all-new Picanto City. This model is, from the outward appearance, almost identical to any 3-door Picanto you'll see frolicking through the streets of the U.K., but under the hood, in the wallet, and at the pump, it is much different than you would expect.
On the outside, the changes to the Picanto City are very minor. It still boasts the short 3-door body style, high and sharp bodyline stretching down its compact length, and a swooping roofline that helps sweep air away. On the front end you will find a new black grille with a red inline to add a little extra flair. You also get front fog lamps, 14-inch, 8-spoke alloy wheels and chrome door handles. To help keep your mirrors free of frost, Kia will also include standard heated side-view mirrors.
The front, lower grille is also all new for the 2013 model year. Unlike last year, the fog lamps and their beds are integrated with the grille, giving the Picanto City a slight smile on its face. Inside the smile lay a mesh-style grille that adds a little sportiness to this compact hatchback. Additionally, the headlights are now outlined in a matte black, giving the Picanto City a smoother look.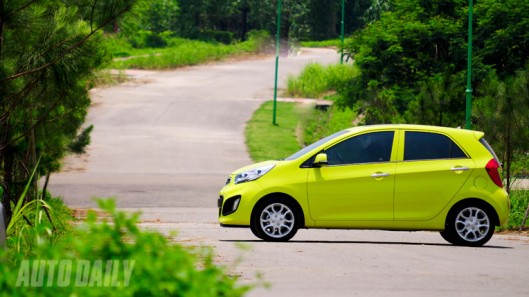 On the back end you get a black plastic insert on the rear bumper that we are certain you can get painted to match the rest of the body, for a small fee. Also included on the Picanto City are rear parking sensors, helping you slide into tight spaces.
On the inside you are getting premium cloth seating and a leather-trimmed steering wheel. Also mounted on the steering wheel are audio controls, so you never have to take your hands off of the wheel to change the tunes. Also included is Bluetooth connectivity, so you can make hands-free calls or even stream music.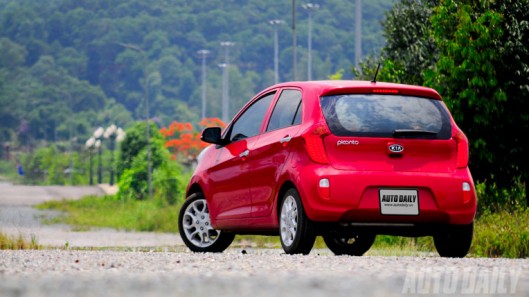 A Hollywood-style vanity mirror with 3-stage illumination and ambient LED lighting throughout the interior keeps the Picanto City up with modern times and adds a little extra luxury for its low base price.
Being a "City Car" the Picanto City is not designed to be a fast car, but rather an effective people mover with good gas mileage. Its 1.0-liter 3-cylinder plant links up to a 5-speed transmission, and the Picanto is propelled via its front wheels. Kia does not offer up a power output specification for this model, but other Picantos with the same setup produce 51 kW (68 horsepower) at 6,200 rpm and 95 Nm (70 pound-feet) of torque at 3,500 rpm. This is enough to get the Picannto to a top speed of 153 km/h (95 mph) and to 60 mph (96.5 km/h) in 13.9 seconds.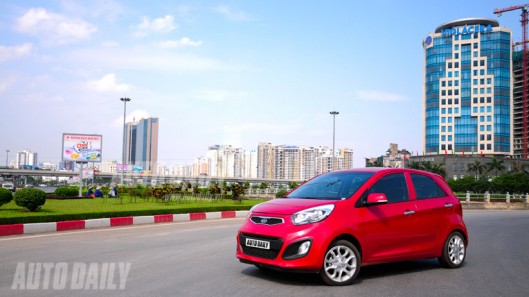 As we said, this car is not about speed, which is obvious thanks to its incredible 63 mpg combined. That ultra-high mpg keeps it exempt from London road tax and congestion charge, making it a money-saver straight off of the lot. Additionally, the Picanto City only emits 99 grams of CO2 per km.
There are your typical safety devices on the Picanto, as required by European safety standards, but it also comes with electronic stability control vehicle stability management, Hill Assist Control, Cornering Brake Control, and six airbags. This all helps make the Kia Picanto one of the safes 5-seat cars in its class.
For all of the features you get, the 2013 Picanto City is very reasonable, coming in at just £10,245 ($16,546 at the current exchange rate). You can pick up this all-new Picanto City starting on Octiber 1, 2012.