The Kia Picanto is a city car produced by the South Korean manufacturer Kia Motors since 2004. It is also known as the Kia Morning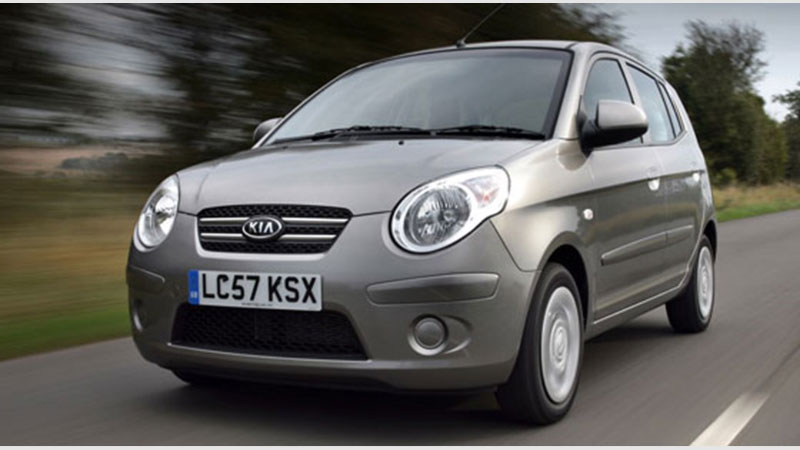 The Kia Picanto is a city car produced by the South Korean manufacturer Kia Motors since 2004. It is also known as the Kia Morning in South Korea, Hong Kong, Taiwan (first two generations) and Chile, Kia EuroStar in Taiwan (first generation), Kia New Morning in Vietnam and the Naza Suria or Naza Picanto in Malaysia (first generation). The Picanto is primarily manufactured at the Donghee joint-venture plant in Seosan, South Korea, though some countries locally assemble complete knock-down versions of the car.
The first generation Picanto was revealed at the 2003 Frankfurt Motor Show. It was based on a shortened platform of the Hyundai Getz and was 3,495 mm (137.6 in) long, with a five-door hatchback body style. The car was available with a choice of two petrol engines: a 1.0-litre, with 61 hp (45 kW) and 86 N⋅m (63 lb⋅ft), or a 1.1-litre, with 65 hp (48 kW) and 97 N⋅m (72 lb⋅ft), both with multipoint injection. In Europe, a 1.1-litre three-cylinder diesel engine (based on the Kia Cerato's 1.5-litre four-cylinder unit) was also available, with direct injection and a variable geometry turbocharger, the power reaching 75 hp (56 kW) and a torque of 153 N⋅m (113 lb⋅ft). The petrol engines had a combined consumption of 5.1 L/100 km (55 mpg‑imp) and 5.2 L/100 km (54 mpg‑imp) respectively, while the diesel used 4.4 L/100 km (64 mpg‑imp). An automatic gearbox (with torque converter) was optional for the petrol units. In some countries, it was sold with a 1.2-litre engine, also used on the newer Hyundai i10.
To increase its appeal in the European market, the Picanto was equipped with such features as CD player with MP3 audio playback, air conditioning, front and patented rear electric windows, remote central locking, and electric mirrors. These features were advertised in a short-lived ad campaign starring Marcus Grönholm.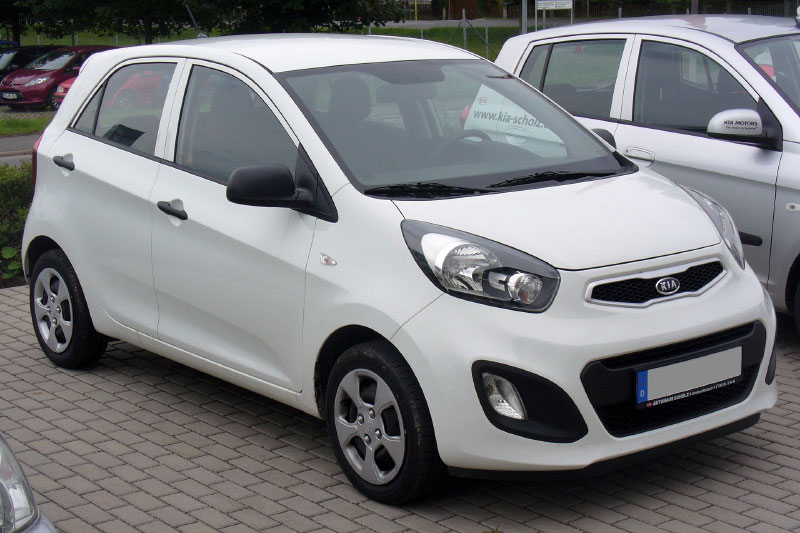 The second generation Picanto made its debut at the Geneva Motor Show in 2011. Designed by Kia's European design team based in Frankfurt, Germany, under the direction of Peter Schreyer, the new model is longer in wheelbase and overall length than its predecessor. The Picanto is offered with a choice of two gasoline engines: a 1.0 liter three-cylinder or a 1.25 liter four-cylinder. The Europe-spec 1.25 liter engine features ecoDynamics, Kia's start-stop system. In addition, there is also a petrol/LPG version of the 1.0 liter engine available. The Brazil version is equipped with a flex fuel version of the 1.0 liter engine that uses both petrol and ethanol.
The Picanto was available worldwide (except North America, Venezuela, China, and Singapore) as a 5-door hatchback while the European market received the exclusive 3-door variant. The 3-door version is the same length as the 5-door model, but it sports new windows and doors, different bumpers and a front grille with silver or red trim. In South Korea, the Morning is offered in a Sport Pack, which consists of the 3-door's front and rear bumpers, as well as a digital speedometer.
In some countries, the Picanto name is accompanied by a modifier for marketing reasons. Examples include Picanto Ion for Colombia, Picanto R for Ecuador, Picanto Flex for Brazil, Picanto K1 for Thailand, and Picanto 1250 for New Zealand. In the Indonesian market, the 1.0 liter variant was named Morning 1.0 to distinguish it from the 1.2 liter Picanto; this variant was sold in 2015 only.
The second-generation Picanto for the Pakistani market was launched at Pakistan Auto Parts Show (PAPS) 2019. It is locally assembled at Kia Lucky Motors plant in Karachi and will be equipped with 1.0 liter engine. Production will commence from August 2019, with actual sales expected starting October 2019.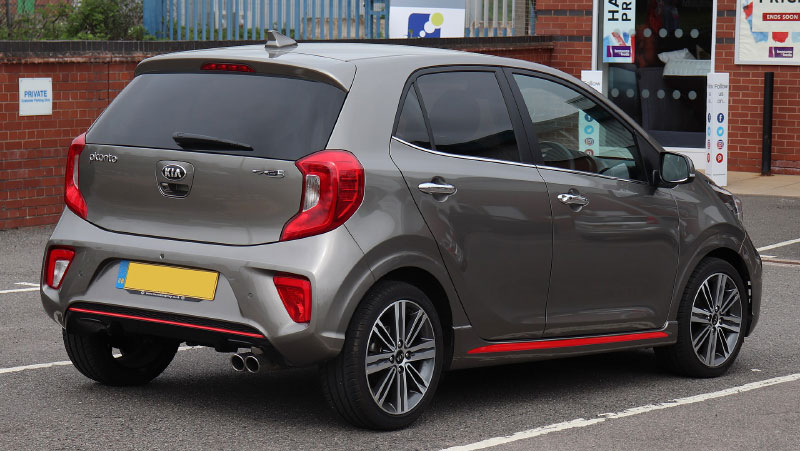 In January 2016, spy shots of the third generation Picanto were published online. The third generation Picanto made its official global debut at the 2017 Geneva Motor Show. The Picanto is equipped with a choice of three engines: the outgoing model's 1.0 liter Kappa II three cylinder engine in the multi-point injected and turbocharged direct-injected versions, and the 1.2 liter Kappa II four cylinder engine. Both 1.0 liter engines are mated exclusively with a 5-speed manual transmission while the 1.2 liter engine will be offered with an optional 4-speed automatic transmission. The car features all-new safety features such as Torque Vectoring Brake Based (TVBB) system, Straight Line Stability (SLS), Forward Collision Warning System (FCWS), and Autonomous Emergency Braking (AEB).
While the Picanto is launched globally through the 2017 calendar year, it is expected to enter the Indian market in 2019 to introduce the Kia brand to the country.
For the Malaysian market, the third generation Picanto was launched in January 2018 available with only one trim level with only the hatchback bodystyle and powered by a 1.2 litre naturally-aspirated four-cylinder engine and a 4-speed automatic transmission. In January 2019, the GT-Line variant was announced which adds Autonomus Emergency Braking (AEB) and many other new features after its preview in 2018 Kuala Lumpur International Motor Show. In May 2019, a base variant KX and X-Line was added, priced at RM44,888 & 57,888 respectively.