All new upgraded Kia Picanto is set for launch in 2023. Picanto has lived up to the expectations of its owners in the past. According to a survey Kia Picanto came 15th out of 75 cars for reliability.
2023 Kia Picanto is offered with a bunch of cutting-edge features. If you're thinking of buying a small family-sized hatchback and Kia Picanto is on your small list, this blog might be of some help.
Starting from performance specs, engine, transmission, safety analysis, to dimensions and cargo space, we've covered it all for you.
This article will cover all there is to know about the all-new upgraded Kia Picanto. So, let's get started!
What's Under the Hood of 2023 Kia Picanto?
2023 Kia Picanto is offered in two different engine options. Base trims are offered with 1.0-L DPi engine. Which is capable of producing 66 hp at 5,500 rpm.
On the other hand, the top-of-the-line variant will be offered with a turbo 1.0-L T-GDi engine. It has a power output of 99 hp and torque is rated at 4,500 rpm.
Similarly, when it comes to transmission, both engines are offered in two different configurations. One of them is laced with 5-speed manual transmission and the other is offered with 5-speed automated manual transmission (AMT).
AMT and MT are similar in regards of hardware. The only difference is that AMT uses sensors and actuators to perform the clutch action and gear shifting.
The front and rear suspension of 2023 Kia Picanto has been kept according to the worldwide trend of hatchbacks. On the front you have your standard McPherson Strut suspension, while the back side is supported by a trailing arm suspension.
What is the Fuel Consumption of 2023 Kia Picanto?
The company claims are bold when it comes to the fuel consumption ratings of Kia Picanto. According to Kia, Picanto is capable of covering 58.9 miles in one gallon. Or in other words the rated fuel average of 2023 Kia Picanto is 25.1 km/l.
However, the test results for fuel consumption of Kia Picanto have revealed the truth. What company is claiming regarding fuel average is true to some extent. The test results have shown that when Kia Picanto was driven below 60 mph, the fuel mileage was 56 mpg (23.9 kmpl).
But fuel consumption is highly dependent upon personal driving habits, speed, acceleration, and braking patterns. Still based on test results we can safely say that Kia Picanto has an excellent fuel mileage.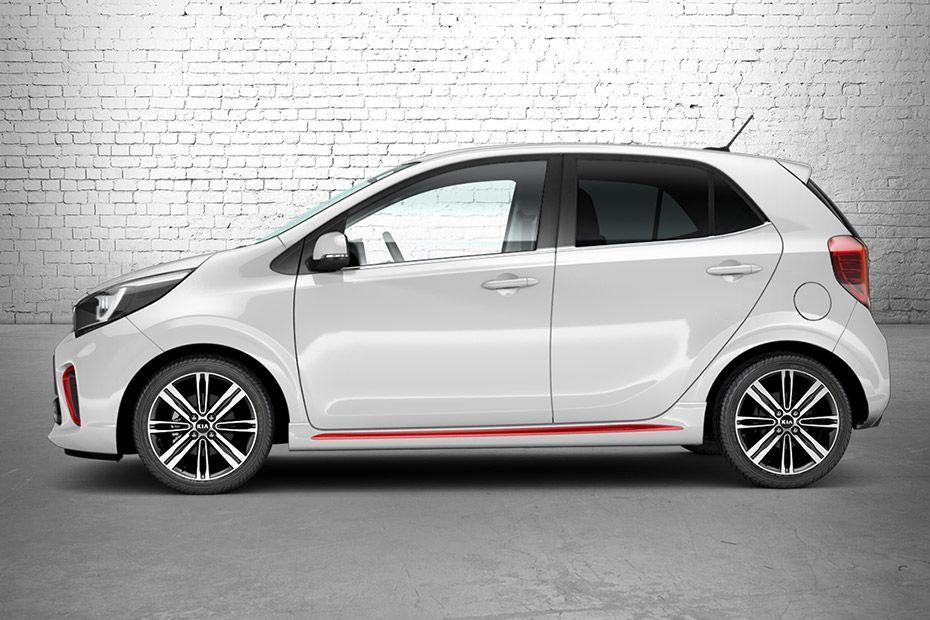 Dimensions, Interior, and Cargo Space of 2023 Kia Picanto
Kia Picanto feels quite spacious for its exterior size. The main reason is very minute design of the interior. On the outside Kia Picanto has a height of 1,485 mm, width of 1,595 mm and 1,403 mm on front and back respectively, and a wheelbase of 3,595 mm.
The storage capacity of Kia Picanto is not only generous but versatile as well. The luggage compartment offers a capacity of 255 liters. But this can be extended up to 1,010 liters thanks to the 60-40 split folding second row seats.
Is 2023 Kia Picanto Safe to Drive?
The safety ratings of 2023 Kia Picanto aren't great, but they are reassuring to say the least. It has been rated 4 out of 5 stars for safety by Euro NCAP.
But it is important to note that models without Advanced Driving Assistance safety pack which includes autonomous emergency braking are rated 3 out of 5. So, the ratings aren't exceptional for base variants.
Although top variants are equipped with tons of modern safety features. These include ABS with Electronic Brakeforce Distribution (EBD) & Brake-Assist System (BAS), Electronic Stability Control (ESC), and Vehicle Stability Management (VSM).
Some of the other safety feature in 2023 Kia Picanto are Torque Vectoring Brake Based & Straight-Line Stability (SLS), Hill-start Assist Control (HAC), and Emergency Stop Signaling (ESS).
Apart from these advanced safety feature Kia Picanto offers all the standard amenities. Such as Twin Front Airbags, Front Passenger Airbag Cut-off Switch, Twin Side Airbags (Front), Twin Curtain Airbags, Side Impact Protection System, and Impact Sensing Auto Door Unlocking.
So, overall, Kia Picanto is safe to drive but let's just say that there are better options on the market if safety is main concern for you. If you drive your car inter-city or on high-speed highways more frequently then this car might not be for you.
Final Words; The New Upgraded Kia Picanto
Kia Picanto has emerged as a champion of Hatchback segment in Europe over the last few years. The price point of this car is very attractive. Combine it with the bold looks of exterior, lavish interior, and an extended 7-year warranty, Kia Picanto 2023 is a lucrative package.
If you're looking for a reliable hatchback that can take you from point A to B within city hassle free, Kia Picanto is a great option. It is a complete family car which can cater to all your needs.
We hope this article was helpful in making up your mind. What do you think about the new upgraded Kia Picanto? Do let us know in the comments sections down below.