Audio System on Kia Picanto is equipment installed in a car to provide in-car entertainment and information for the vehicle occupants.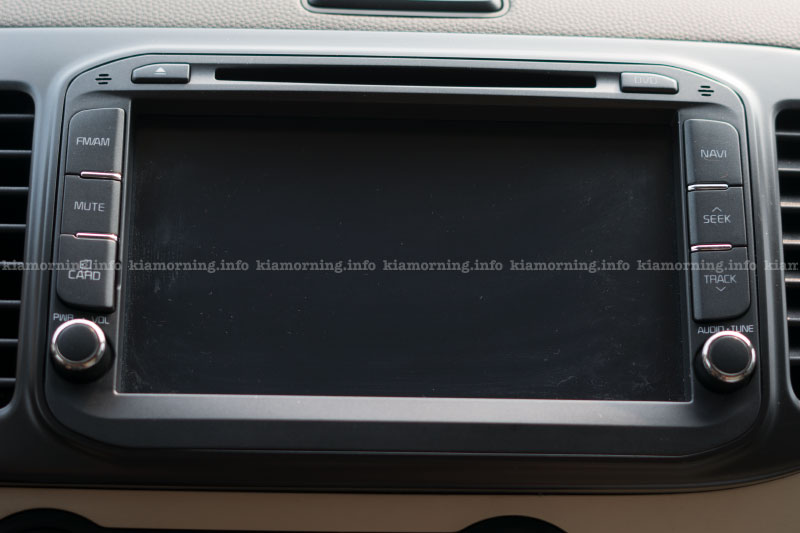 Notice: If you install an aftermarket HID head lamp, your vehicle's audio and electronic device may malfunction.
Android Car DAB receiver from Sony for Kia Picanto
Antenna
Your car uses a roof antenna to receive both AM and FM broadcast signals. This antenna is a removable type. To remove the antenna, turn it counterclockwise. To install the antenna, turn it clockwise.
Caution:
Before entering a place with a low height clearance or a car wash, remove surely the antenna by rotating it counterclockwise. If not, the antenna may be damaged.
When reinstalling your antenna, it is important that it is fully tightened and adjusted to the upright position to ensure proper reception. But it could be folded or removed when parking the vehicle or when loading cargo on the roof rack.
Feature of Your Audio
SEEK/PRESET/TRACK
When pressed quickly
Radio mode: Searches broadcast frequencies saved to Presets.
Media mode: Changes track, file or title. (except AUX)
When pressed and held
Radio mode: Frequency is con- trolled by 1 step quickly. When the button is released after pressing and holding, searches broadcast frequencies.
– Media mode: Rewinds or fast-forwards the song. (except BT Audio*, AUX)
MODE
Each time this is pressed, the mode is changed sequentially.
If the media is not connected, the corresponding modes will be disabled.
Press and hold to turn the Audio system on/off*.
When power is off, press button to turn power back on*.
* if equipped
MUTE
Mutes the audio volume.
When a call is active, mic volume is muted. (if equipped)
VOLUME
Adjust the volume.
AUX, USB port (if equipped)
You can use the AUX port to connect audio devices and the USB port to plug in a USB device or iPod.
Notice: Using the usb devices
Connect the USB device after turning on the engine. The USB device may become damaged if it is already connected when the ignition is turned on. The USB device may not operate properly if the car ignition is turned on or off with the USB device connected.
This device recognizes USB devices formatted in FAT 12/16/32 file formats. This device does not recognize files in NTFS file format.
When connecting an external USB device, the vehicle's audio system may not recognize the USB depending on what firmware is used by USB device or what files are on the USB.
Connecting an MP3 device or phone through various channels, such as AUX/BT or Audio/USB mode may result in pop noises or abnormal operation.